Saber & Saber Mini
The Wolf River Coil Saber & Saber Mini are designed for those operators who need an inexpensive second antenna installation, portable operation, restricted space antenna, stealth antenna, quick up Field Day antenna or just something to experiment with. It may be used at power levels up to 100 Watts SSB, 50 Watts CW and 20 Watts with digital modes.
Like our other coils, we groove the core and then wind corrosive resistant stainless steel wire to make up the coil. All the antenna hardware is stainless steel so there will be no corrosive effect on your antenna in years to come. Only the supplied thumb screws used to mount the coil are zinc coated steel.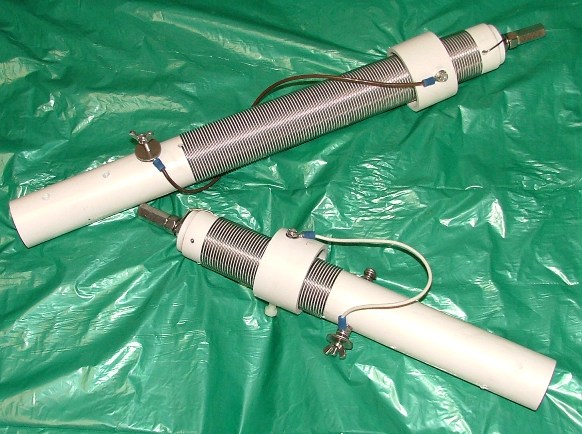 The Saber and Saber Mini will accept any antenna whip using a standard 3/8 24 fine thread base. The core base is double-wall thick and can be slid over any ground rod or pipe up to 1 inch in diameter.
The design of the coil base is made so it can be mounted in many different applications.
You can mount the Saber on a TV mast pipe using standard 2" U-clamps (not supplied).
You can slide the base over a ground-mounted ground rod and tighten the supplied thumb screws.
You can mount two coils back-to-back on up to a 1 inch pipe or conduit to make a rotatable dipole.
Even custom mobile mounting is possible with this coil design.
| | |
| --- | --- |
| Built like our Silver Bullet 1000, the Saber will tune 80 through 10 meters with a 90 inch or longer whip. Whips over 90 inches may not tune 10 meters and whips less than 90 inches may not tune the entire 80 meter band. | |
| | |
| --- | --- |
| | The Saber Mini coil, with a 60 inch or larger whip, will tune 40 thru 10 meters. Just slide the tuning coupler up and down on the coil to the desired operating frequency. |
Both coils are capable of RF levels up to 300 watts on a dead key for 30 seconds or less.
Each coil is tested prior to shipping and comes complete with thumbs screw for sleeve mounting.
You will connect your transmission line coax to this antenna with a coax pigtail. Here is how a pigtail may be built.
Here is information about a vertical mount for ground installations.
In the Field
On the Bench
You don't need to give up performance because you are using a portable antenna. The Saber and Saber Mini will tune your whip to the exact frequency you wish to operate with low SWR and impendence matching so your radio's signal will get out like the big boys.
These measurements were taken with a Mini VNA Pro. The antenna was ground mounted with no radials. Lower SWR can be achieved using a ground radial system. The 15, 12 and 10 meter bands can also be tuned when using a smaller whip.